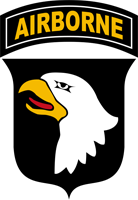 Name: 101st Airborne Division
Website: http://airborne101st.site.nfoservers.com/
Teamspeak: 216.157.78.176:10427
Steam Group: http://steamcommunity.com/gid/103582791434405919
Region: Global (EU times but are made to be US friendly)
Languages: English
Gameplay preference: COOP Milsim for trainings, FTXs, and operations. PvP (TvT) against other units.

Introduction
We're a 5 year old ArmA community that focuses on giving its members an authentic experience in a WW2 environment, and at the same time giving our members a second home. This is done by using the ArmA engine with the IFA3Lite and Faces of War mods as well as some custom made mods. we are based on but not limited to the 44-45 PIR (Parachute Infantry Regiment) Table of Organisation.
We are actively recruiting new members who we would consider to be high quality players and who would take pride in being involved in our community. Once you have been accepted into our training platoon, you will not just be another number; we will do our best to develop your skills and make you an elite trooper. Please do note that this is not a 'casual' or 'semi-casual' group, we're here for the fun of immersion.
We are based off of EU times, however, we keep our times US friendly:
Fridays 2200 BST (UTC+1)
Saturdays 1900 BST (UTC+1)

Progression within the unit
Once you have completed your Basic Combat Training you will have the opportunity to choose an MOS (Military Occupational Speciality).

Here is a list of some of the MOSs you can choose after BCT:
745 - Rifleman
657 - Medical Aidman
746 - Automatic Rifleman
607 - Light Mortar Crewman
604 - Light Machine Gunner
During BCT (Basic Combat Training) and Airborne School we will monitor your skills and performance to see if you have got what it takes to be one of the few selected for the Junior NCO Course.
Requirements:
18+ with few exceptions (show you're mature enough)
Have a working microphone.
You must be reliable.
You do not need Arma 3 Apex DLC.
The Joining Process
The recruitment process is as follows:
Visit our website at and navigate to our
Apply to Join
page.
The next step is to submit an Application. Once you have done this, If you have any questions, make contact with one of our liaisons on Steam.
Recruiter's Steam
Should you meet our basic requirements, we will invite you on to our Teamspeak 3 server for a quick chat with a Recruiting Liaison or NCO. This is done so that we can confirm some details with you and give you the final information.
Then it's all down to you.